A birthday is an occasion to shower gifts on the person we love. In this case we have a shower of words. So let us begin right away.
Tejjal Bhanshalii
Nidhi Gupta ma'am for ME is a complete transformation institute in herself….always there as light in darkness for anyone in need and always wishing good for everyone and a women of substance…How much ever I write would be less in front of her generosity and helpful nature…
https://www.instagram.com/tejjalbhanshalii/
Sakshi Gogna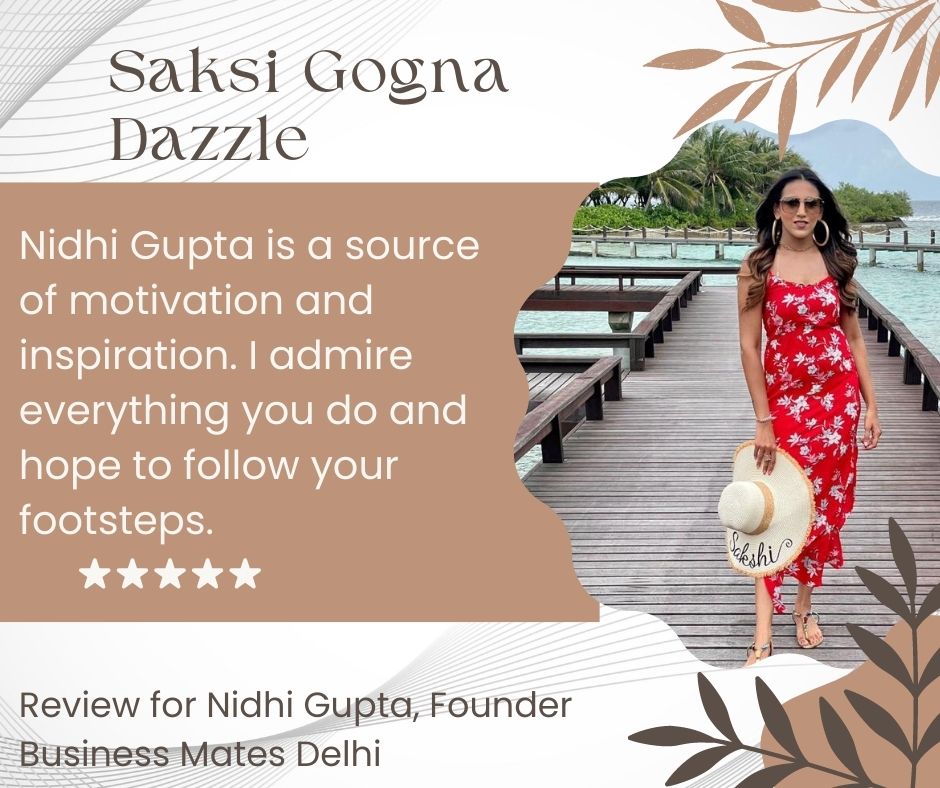 Whenever I think about you or hear your name, I relate with two things, motivation and inspiration. I believe that for a happy living one needs to motivate each other all the time and I think you have been that motivation in my life. One more thing I would like to add is that whenever somebody inspires you that means they are giving you new ideas and new wings to fly and they are always triggering you to be a better version of yourself. I think in my case you have been my inspirator as well. You have filled up my life with motivation and inspiration in a big way.
I am really thankful to you and admire everything that you do and I hope that I can follow your footsteps. You are a great mentor, a great person and a beautiful soul inside out. I want to really follow your footsteps so that people can look at me and relate that she is a positive soul and she is an inspiration. So thank you for everything that you have done. Keep showering and blessing us with your motivational ideas of life. Just keep sharing your experiences so that we can become a better version of ourselves.
https://www.instagram.com/dazzle_by_sakshigogna/
Manisha Yadav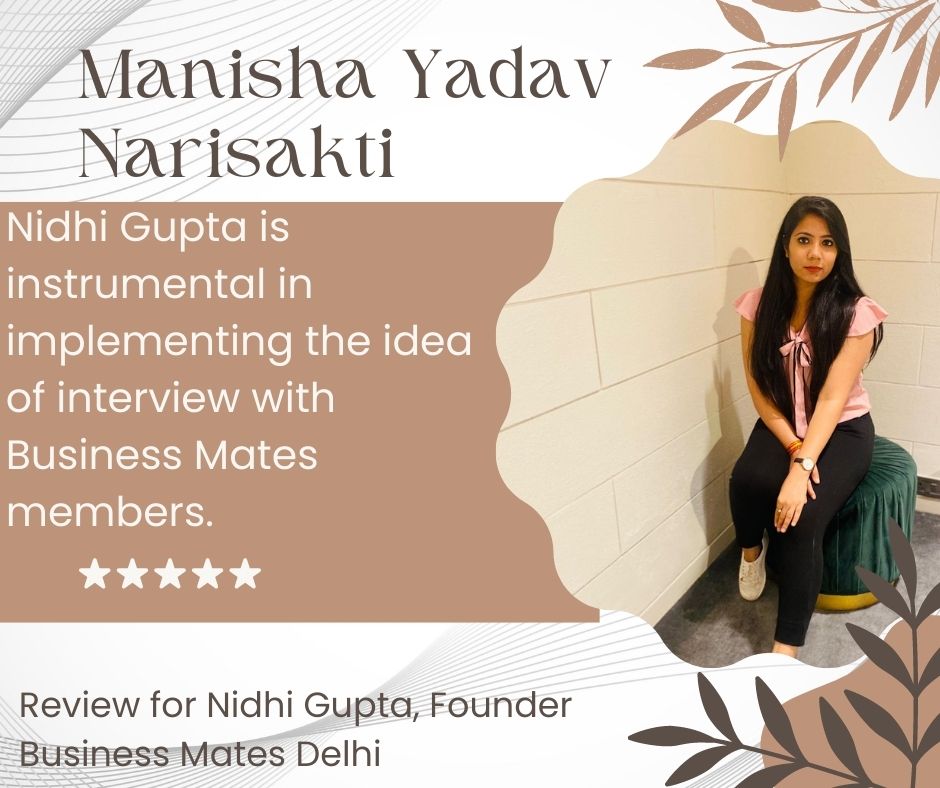 As an entrepreneur, I like her never-say-die attitude. She has seen so many ups and downs in her endeavour to make a name for herself and her academy. She always keeps a calm composure and her strength is the connections she makes with people.
Another thing which I like about her and relate with is her life mission of women empowerment. Even my venture, Narisakti is all about how does a woman make a mark for herself. She hires new teachers who have zero experience and hands them important assignment with reputed schools and institutes. That is as per me a great responsibility.
https://www.instagram.com/narisaktibymanisha/
Sonam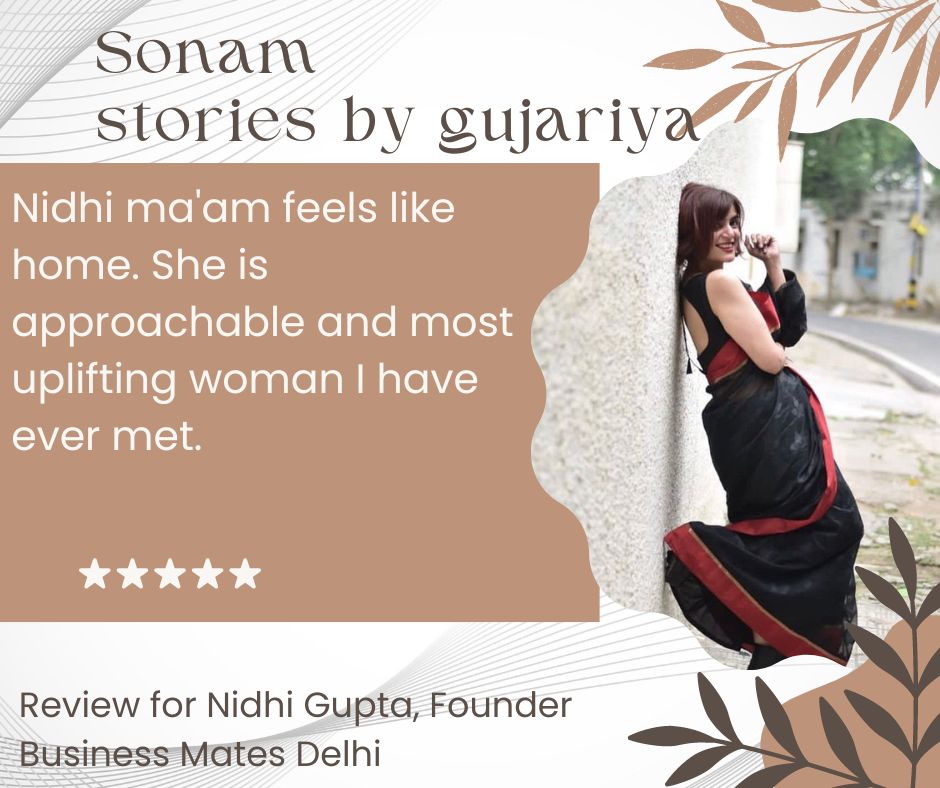 Nidhi Ma'am at first sight feels like home.. If it makes any sense.. The most positive and uplifting woman I have ever seen.. Every woman she meets she thinks for her.. Anyone can talk to her.. That's her vibe❤️ blessed to have known her. Sweet soul.
https://www.instagram.com/storiesbygujariya/
Mrudita
Nidhi Gupta is a compassionate lady and a down to earth person. My journey with her began as a student and she is the most caring teacher. I met her before the lockdown and my experience with her of the past three to four years is positive. She scolds her students very rarely but even when she does she takes a lot of time and patience to explain the reasons. She has tremendous experience in her field. She has stayed with one profession for so many years. I always regard her as my ma'am. There are very few people in my life who are close to me and she is the one who has a special place in my heart.
She is so simple and yet she is such a wonderful person. Despite her stature and sophistication, she is still so simple and down to earth. She has created an aura around her. I like her a lot, not just because she is my ma'am but most of us around her feel the same for her.
Gurpreet Kaur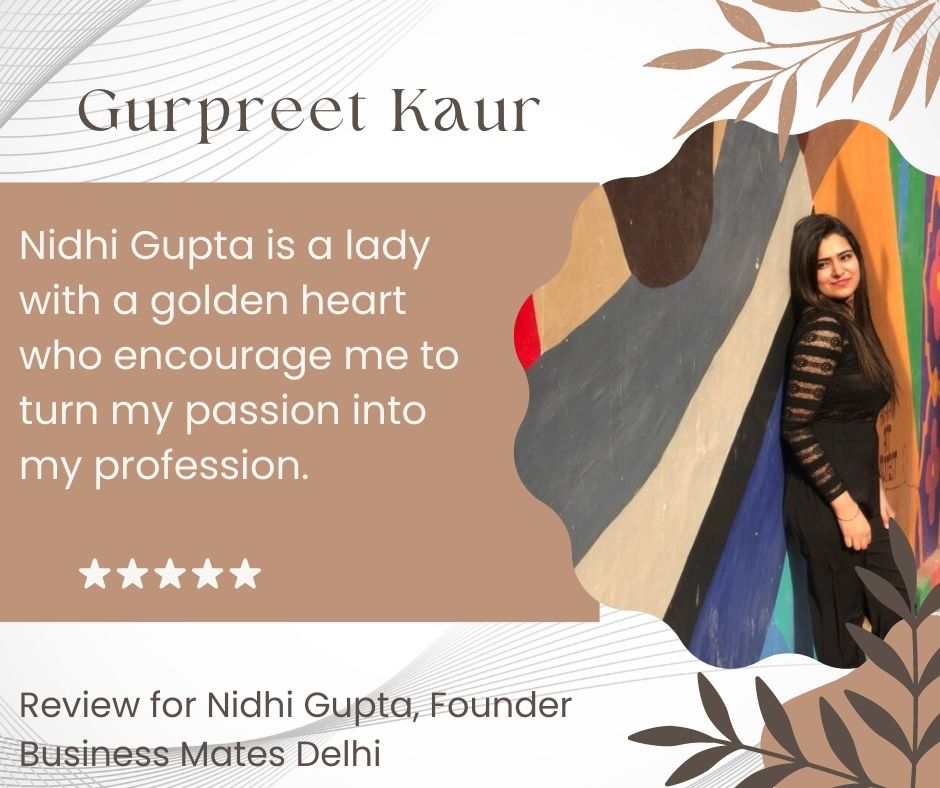 I have known Ms. Nidhi Gupta for more than 10 years now. She is a lady with a golden heart, who helped polished my skills and encouraged me to turn my passion into my profession.
Today, I successfully run my own hobby classes, work on projects and improve my own skills.
I cannot thank her enough for all the guidance and love she has given me.
With respect to business mates, it is a women centric promising platform that gave a jump to my career. Women of BM are a beautiful humans motivating and support each and every member to excel gracefully.
https://www.instagram.com/ceramic_graphics/
Arvinder
Thank you is such a small word to say… Ma'am just because of you and your idea of business mates, I have promoted my business in such a great way. I got so many good clients, people, mates, just because of your given platform 'BUSINESS MATES' ! Moreover not only growing my business but also got a group of positive and pure souls. ⭐✨I love to attend each and every meet and meet all the empowering women there. Happy faces all around😊😊
All this is possible just because of your and Aastha Ma'am's efforts who thought about this innovative idea of women business networking group 😍 May we all rise, grow and shine together always ⭐💫✨✨
Endless gratitude!!
https://www.instagram.com/_bags_ndmore/
Nidhi Gupta
Director, Likhavat Academy
Founder, Business Mates Delhi
https://www.instagram.com/nidhigupta1777/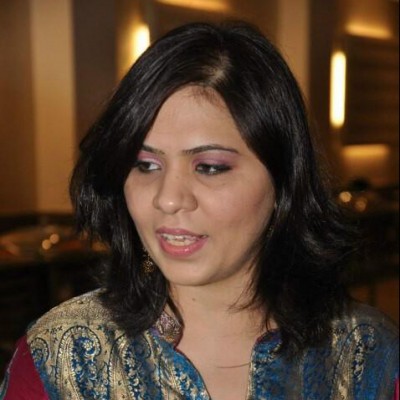 A mother of two, Preeti Bhandari is a colloquial writer. She believes in simple living which reflects in her writings. As the Editor of Narisakti, she intends to use her vast experience to propel this platform to a cult status among entrepreneurial networks.
When not writing she is quilling, both with paper and thoughts.